Glasses can break or rub into skin when taking an impact from a ball or a stick. This can happen during a trip or a slip too. While in the USA players increasingly are complaining about plastic goggles with metal mesh, saying they block clear vision downward, causing more injuries. I spoke to some fellow players and parents to gauge opinion on this important matter.
Phoebie, a mother of two sons who play asked me,
"We mostly play indoor, its quick and obviously with children tripping alot. This means the kids who wear standard glasses are getting similiar injuries on the cheek bones where glasses dig into their faces. What is the solution? She added, "Its getting more common."
Jamie, an old friend who plays in defence tapped me on the shoulder and said: "Prescription sport goggles. They're made of tough polycarbonate and they contain your prescription lenses."
I googled them and their they were. Around the $65 – 40 GBP mark and looking like sunglasses with an elastic strap to fit round the wearer's head.  "How much are contact lenses these days?" I asked. I added before anyone could answer: "Aren't they expensive?"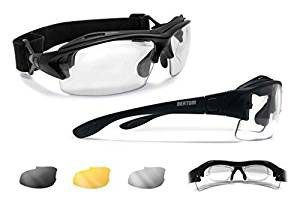 Jamie replied: "In my day the price put them out of range, being over $330/£250 in today's money. Nowadays on internet stores, you can get a pair that would last three months for $40/£30/$50/£40 or even daily use lenses for the same. So if the kid's px changes over a few months, which does happen, then new lenses aren't so expensive."
"Prescriptions can change quite alot over even a year, which in the past was a big issue for lens wearers, having to continually change. These days the daily lenses can be changed when they expire at no great cost."
"Sounds good," I said. "So, There is a good option."
"I had some designed for squash players: wrap around frames and lenses in polycarbonate before I switched to the soccer style ones." He added: "I played for 20 years or so in standard glasses, but then got hit and needed stitches where they dug in."
Phoebie seemed impressed and said she would alert all the parents and show them the goggles online.
A week later I saw Phoebie again and she said several of the mothers were unwilling to make such an outlay on goggles and lenses for kids at a very young age. We discussed the matter further and came to the joint opinion that to save money, proper field hockey goggles should be worn in the USA.
At a cheaper, $30 each (as the rules are not there to be broken – they must be worn). In Europe they'd be good for protection. Sure, but they're not mandatory. All ages can play with out eye protection so if the kid is short sighted, daily eye lenses would be okay and cause less damage and friction than clunky glasses.
I can say throughout school at all levels no one I remember played with eye protection and I never saw an eye injury. They are rare though it's up to the individual (in Europe). In America please follow the rules. I will leave a link here where to buy protective glasses at the $30/25GBp mark >