The incredible popularity of field hockey in the Netherlands, along with large financial sponsorship in comparison with other countries. Which in turn have driven up playing standards are principal reasons why the Netherlands field hockey league is recognized by many as the best in the world.
The Passion for Field Hockey in The Netherlands
There are over a quarter of a million members of the Royal Dutch Hockey Association, who are active players of field hockey. Boys and girls play field hockey in equal numbers, and are passionate about the game from around 4 years of age upwards.
Two percent of the population of this small country of 16.5 million enjoy playing the sport of hockey. There are also teams exclusively for 'veterans' over 35 years of age who don't want to give up the sport just yet.
Dutch field hockey superstar, Ellen Hoog, is a double Gold Olympic champion and has 120 international caps. Ellen summed up the passion for field hockey among families which starts from a young age.
"I was wandering around hockey clubs as soon as I was able to walk," said Hoog,  who first started playing the sport before five years old. "All of my family played hockey so I was inducted early."
Field hockey is the second most popular sport after football in the Netherlands. Nowadays, there are 320 hockey clubs in the Netherlands, with more than 450 artificial pitches, which is staggering for a small country. Hockey is played by almost 240,000 people nationwide.
History of the Sport in the Netherlands
The big clubs, like Rotterdam, have over 3,000 paying members and over 100 youth teams.
The oldest club on the European mainland is based in Amsterdam: Amsterdam Hockey and Bandy Club (set up in 1892).
The club was men's European champions in 1995, and Runners-up in 1996 and 1998, while
the women have been winners an eye-opening fourteen times!
The Netherlands League Attracts Many top Players
Three times women's world FIH goalkeeper of the year and Olympic Gold winner with Great Britain, Maddie Hinch, signed up to play for the Dutch side, Stichtsche Cricket en Hockey Club. Playing there between the posts for 3 years now, she very much enjoys the experience. She has a full-time goalkeeping coach.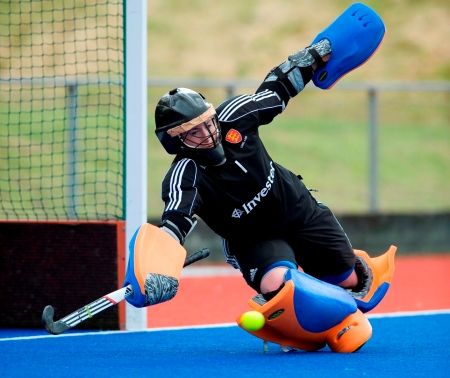 One of New Zealand's all-time top goal scorers, Phil Burrows, has won 120 caps for the black sticks and competed in three Olympic games. He has enjoyed playing in the Netherlands since 2005. When asked why he chose the Dutch league he said:
"I went because it is the best competition in the world, which can only improve my hockey. And the fact that I can play hockey and live as a professional athlete,
living and playing in a different country and adjusting to new cultures has been such a great experience"
The Attraction for the Best Players
It is clear that the chance to work and play as a full-time professional hockey player is a big attraction to many players. Australian international Kieran Govers plays for Den Bosch in the Netherlands underpinned this sentiment: "It is the best competition in the world," said the Kookaburra player.
"Being a professional hockey player means I can devote more time to training and skills development, rather than working in a job outside of hockey just to keep afloat with bills and family needs"
Hockey players can become household names in Holland. One such star is FIH player of the year Eva De Goode, who won back-to-back gold medals with the Dutch team. She has been recruited by Adidas to star in a TV commercial and is regularly seen on Dutch TV.
Finances are a Key Factor in Attracting the Best Players
Only Holland and Belgium hockey teams offer 'just playing' paid jobs. The top club teams in other major hockey countries often pay less or double up playing with coaching roles, along with free accommodation.  Australian Jamie Dwyer, five-time FIH world player of the year, was reportedly paid up to €150, 000 Euros a season by the Dutch team, Blomendaal. It is common for Internationals in the Dutch league to earn €40,000 Euros a year.
Jeroen Hertzberger, one of the world's top field hockey players and captain of Dutch club HC Rotterdam has just been awarded a lucrative contract endorsing STX field hockey sticks. In fact, the world's best manufacturers are queuing up to sponsor internationals plying their trade in the Netherlands.
Xan de Waard was born in 1995 and won her first cap for the Dutch field hockey team on 4 February 2013 during an international match against Australia. Adidas has added her to their stable of talented players endorsing the Adidas brand. You can see my review of Adidas Sticks here.