Over the recent past, women have continued to grab attention when it comes to one of the most popular games in the world, field hockey. The top women players are highly skilled athletes. In my opinion, some of the best female field hockey players are:
Luciana Aymar
Ellen Hoog
Maddie Hinch
Stacey Michelsen
Eva De Goede
There are thousands of female hockey players worldwide. However some have stood out against the odds to win, then maintain, their top positions. As such, the top 5 in the list of best players include Ellen Hoog, Maddie Hinch, Stacey Michelsen, Luciana Aymar, and Eva De Goede.
There are some great players listed in my review. I'd like to hear from you if you think I'm wrong. The following is my list of the best 5 women's field hockey players, past and present.
Luciana Aymar was an Argentinian field hockey player, known for her incredible technique and athleticism in the sport. She was born in Rosario in the year 1977. A great choice as my number 1, it's easy to start watching her videos and never stop watching!
Her pace and fantastic dribbling skills make her one of the greatest players in the history of hockey. She hit the headlines during the 2012 summer Olympics which were held in London. While at the Olympics, Aymar represented her country as a role model, winning several medals.
Aymar was elected more than seven times as the world's best hockey player in the female category. In 2008, Aymer was declared by the international hockey federation as a world hockey legend. Even though she nowadays doesn't actively participate in major tournaments, she still plays at the local tournaments. Her enthusiasm for hockey is always apparent. In this humble writer's opinion, she's the greatest ever.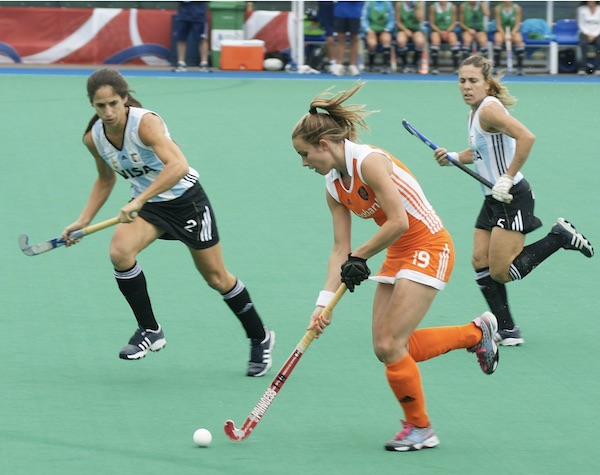 Ellen started playing hockey in 2002 at the oldest hockey club in the Netherlands, Amsterdamsche hockey club. She then rose up the ladder and found her way into the national hockey team.
Ellen became European champion in Dublin in August 2005. In 2006, the Dutch woman participated in the women's world cup of field hockey where she helped her country to lift the gold medal by winning the championship.
This two-time gold medalist is among the athletes considered as one of the greats in the field of hockey.
Many of her fans are women and kids who often watch her performances avidly, with her style copied throughout the hockey-playing world.
Maddie won an unprecedented FIH best goalie in the world title 3 years in a row from 2016 to 2018. She is a member of the England and Great Britain hockey teams.
Playing for the Dutch side, Stichtsche Cricket en Hockey Club she has played as their goalkeeper for 3 years. Maddie Hinch won gold at the Rio Olympics in Brazil in 2016, where she saved 4 penalties in a final shoot-out with the Netherlands. In 2016, her outstanding performance, saving 4 penalties against the Netherlands was seen by the sporting media as the primary reason Britain won gold.
Grays hockey manufacturer has named a goalkeeping hockey line after her and worked with her to design new hockey keeper equipment. Read more about Maddie Hinch here >>
Stacey Michelsen was born in New Zealand in 1991. Currently, she is one of the most well-known players in the field of hockey. She has contributed immensely toward the achievement of her county's team success.
Having been brought up with other elder siblings who loved playing hockey, Stacey caught the bug and honed her skills.
As a child, every day presented a new challenge for her to get better in the pitch. She would accompany her elder siblings to play hockey, where she could swap technique improvements. She always wanted to be better than anyone else in the sport.

After attending St. Cuthbert's College in Auckland in 2009, Michelson was selected to join the 'black sticks', New Zealand's national team. She continued with her focus on the game to improve her skills. In 2010, she was named as the best junior player of the year by the international hockey federation. Her thirst to win a gold medal always kept her going. Stacey got an injury in 2013, which affected her career, setting her back.
Nonetheless, she managed to recover and embark on a path of excellence again as she took the field again. She participated in the Rio de Janeiro Olympic Games in Brazil, where she well represented her country. She is still playing, and is seen as one of the best dribblers in the world.
A great goal scorer and passer, De Goede is said to have it all. Eva De Goede is one of the most famous female hockey players worldwide, along with the 2019 FIH player of the year. Eva was born in 1989 in Zeist, Netherlands. As a Dutch professional player, Eva mainly plays as a midfielder.
Before fame, Eva had a great passion for hockey. She first earned her recognition while playing for a local club known as AH&BC. After winning bronze in a regional competition, she attracted the officials within the Netherlands. After that, she received an invitation to join the national team.
Eva joined Netherlands national women's hockey team in 2008. In the same year, she actively participated in the Summer Olympic tournament where they won the gold medal. In 2012, Eva again represented her country at the 2012 summer Olympics which was hosted in London. Here, they emerged as champions, and once more awarded the gold medal. However, in their participation in 2016, the Dutch squad didn't perform too well. Nonetheless, they were second in the tournament and won silver medals. Up to now, she has played over 200 games for the Dutch team.
Due to her continued determination and focus in the sport, she continued to do well, winning the female best player in the year 2018 and again in 2019. Luckily, she is still playing for the Dutch national team and is determined to win even more awards.