In 2019, Maddie Hinch was voted the world's best women's goalkeeper by the FIH. The achievement was more incredible due to the fact this was the third year in a row she'd won the accolade.

Maddie Hinch is a member of the England and Great Britain hockey teams. and currently plays for Dutch side, Stichtsche Cricket en Hockey Club where she has played goalkeeper for 3 years.  Hinch's great skills came to the fore when she won gold at the Rio Olympics in Brazil in 2016; she saved 4 penalties in a final shoot out with the Netherlands.
Hinch had mixed emotions about winning the FIH 2018 award. She was delighted to win despite not playing internationally at this time. She actually thought that a few of her peers deserved the award before her. However, she said she was very proud and publicly thanks her supporters for voting for her.
Maddie said on her blog, she hopes she can push the levels of goalkeeping to 'new heights' in the new season with Dutch side, Stichtsche Cricket en Hockey Club.
What did Maddie Hinch do in the winter break?
For the 12 weeks winter break she traveled to Australia to unwind. Even the best player in the world needs to refocus sometimes, right? She has played hockey full time for 10 years and she'd only had a maximum of 4 weeks off up to this point. Speaking on her vlog she said, allowing her mind to slip away from hockey is hard and traveling to Australia allowed her to switch off from the game. However she kept up her fitness with other activities such as yoga, swimming and boxing.
What is Stichtsche club that Maddie Hinch plays for?
She is enjoying her 3 rd season at Stichtsche Cricket en Hockey Club which is a Dutch sports club based in Bilthoven, Utrecht. They want to be champions each year but so does the famous Amsterdam club too so it's not easy. However, Stichtsche attracts star studded players with one of the best ever, Ellen Hoog, formerly playing for the team.
Maddie loves her role with the club and her form last season improved as the season went on. She has a goalkeeper coach who helped her get back into the rhythm of things and she's loving the challenge of improving.
The International Career of Maddie Hinch:
She made her full England debut in 2008, but narrowly missed out on a place in the Great Britain squad for the 2012 Summer Olympics. Maddie became established as the Number one and won the silver medal with England at the Glasgow 2014 Commonwealth Games.
She stepped into the lime light in 2015 when she saved a penalty to ensure England won the Euro Hockey Championships in London and was nominated for FIH Goalkeeper of the Year.
In 2016 Great Britain Maddie won Olympic gold at Rio. In 2016. Her outstanding performance, saving 4 penalties against the Netherlands was seen by the sporting media as the primary reason Britain won gold.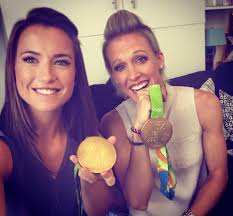 Maddie has not featured since last summer's World Cup in London, when England lost to champions the Netherlands in the quarter-finals (time of writing – this soon changed) as she wanted to recharge her batteries.
England women were thrashed 8-0 by the Dutch team in the Euro Hockey Championships semi-finals. The defeat saw Great Britain miss out on auto qualification for Japan 2020. The reigning Olympic champions will now play a two-legged qualifier at home in November, which they must win to get to the Tokyo Olympics.
The defeat by Holland was hard for Maddie to take
"That was probably the lowest point of my career so far, it's a tough one to swallow," said FIH goalie of the year, Maddie Hinch. "We've got some work to do. We're just not learning and we were nowhere near," said Maddie after the game.
She is now available again for the national team after her period out.
In May she said: "I feel I'm in a great place to rejoin the group and hope to be part of what is an incredibly important journey ahead. Should I be selected, I'm very excited about playing in the FIH Pro League in London – and to try to help the team as we look to qualify for Tokyo 2020 and beyond."
Women's head coach Mark Hager said: "We fully recognize her qualities, but at the same time our goalkeepers have done very well since I came in, so she will have to earn her place in the team on merit, and hopefully give us some tough decisions to make."
Interesting facts about Maddie Hinch:
She has a French bull dog called Willow and she's a Grays ambassador for field hockey. She has become recognized around the world. In the below comical video video her skills are put to the test…
Which goalie gear does Maddie Hinch use?
Such is the reputation of the 30-year-old, 3 time winner of world goalkeeper of the year, Maddie Hinch, Grays have built a range of top goalie equipment around her needs.
Included are sticks just for goalies with reinforced mid sections to improve strength and durability. With mid bows (for juniors and adults) this style of stick is more predictable/straightforward and better for interceptions than the forward players low bows which are designed for 3D skills.
Grays have built a goalkeeper range of gear around Maddie Hinch's needs. You can read my MH 1 review here…
by blog writer Eddie, hockey enthusiast.