Mark Gleghorne, 35, played for Ireland, England and Great Britain has finally drawn the curtain on a glittering hockey career. His body told him it was 'time'.
He played for England at the 2014 and 2018 FIH Hockey World Cupshe; the Lions finished fourth at the respective competitions in The Hague, Netherlands (2014) and Bhubaneswar, India (2018). He won bronze medals at both the 2014 and 2018 Commonwealth Games and featured for Great Britain at the 2016 Olympics.
Between 2004 and 2008 Gleghorne made 80 senior appearances for Ireland. He was a member of the Ireland team that won the 2005 Men's EuroHockey Nations Trophy. At the 2008 Men's Field Hockey Olympic Qualifier he finished the tournament as top scorer. He switched allegiance to England in 2009.
Mark felt Great Britain would give him better opportunities to succeed at Olympics and world level.
Mark was in the reckoning to take his berth in the team for the 2012 London Olympics but, as luck would have it, he failed to get on board the bus because of an injury.
The well traveled, Gleghorne hails from Northern Ireland and was a member of the Instonians team that won the Irish Senior Cup. He played for several clubs in the English hockey league, notably Loughborogh between 2004 and 2007. In 2009-10 season he exchanged the English hockey league for the competitive Dutch division, playing for HC Den Bosch. He returned and joined East Grimstead, representing the club in the 2014-15 Euro Hockey Club.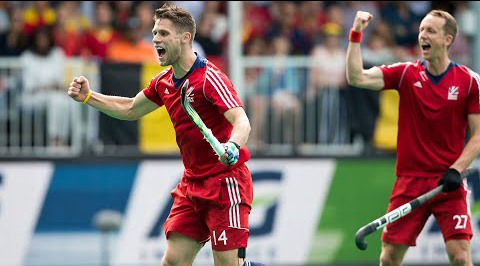 In 2015 Beeston club became his hockey home. His journey did not end there. In 2014 he played for Mumbai Magicians in the Indian hockey league where he helped them to the 2016 title.
Gleghorne's great threat from penalty corners was seen as one of the biggest threats in world hockey.
On his decision to retire, the penalty master said:
"I just felt that it was my time.
Whilst my decision to retire wasn't due to any one single reason, my body was a major factor.

It's a strange feeling – hockey has been a huge part of my life so I will definitely
miss being a hockey player but I'm equally glad that I won't have to do another fitness test!

Winning the 2017 Azlan Shah Cup with GB and a bronze medal at Europeans in 2017
with England are my favourite memories.
Great Britain coach, Danny Kerry remarked in glowing terms about about Mark.
 "Mark quite simply was 'all-in'. He would be first on his team-mates list for having your back and giving absolutely everything.

It's for those reasons that Mark has the utmost respect of his peers and coaches alike and had such incredible longevity in the international game. He will be an incredible asset in his new role back in Northern Ireland and I wish him all the best for his future career."
Mark  says he will miss the special moments like singing the national anthem and the atmosphere in the changing room after a good win. Luckily we have his best moments on Youtube!
See the latest review of the Adidas range of hockey sticks here>>