In these unpredicted and serious times that test all of us USA Hockey has released Return To Play Guidelines with safety and sickness prevention at the forefront. USA Field Hockey has worked closely with the United States Centers for Disease Control and Prevention (CDC), Olympic and Paralympic Committee (USOPC), the International Hockey Federation (FIH). The organization is keen to point out that these guidelines are flexible and can alter when needed. Updates will be available.
The Centers for Disease Control and Prevention (CDC) offers general guidelines and recommendations for the public on how to limit the spread of COVID-19. They currently include:  Clean and disinfect frequently touched surfaces and exercise equipment including balls
Thoroughly wash your hands with soap and water for at least 20 seconds or use an alcohol-based hand sanitizer that contains at least 60% alcohol
Wear a cloth face covering that covers your nose and mouth in public settings
Stay at least 6-feet away from non-household members
Cover mouth and nose with a tissue when coughing or sneezing
Stay at home if you are sick
Currently there are no specific scientific studies done evaluating the risk of COVID-19 transmission in sport. Certain sports could have potential for a higher incidents of disease transmission. The United States Olympic and Paralympic Committee (USOPC) has proposed a stratification scale for COVID-19 transmission in sports with the highest risk being a Level 1 category and the lowest risk being a Level 3. Currently, field hockey is listed in the Level 2 category with sports that have intermittent close contact with equipment that can't be cleaned between participants. The USOPC documents can be found and referenced on their website at teamusa.org/coronavirus.
Per these guidelines it is recommended that Level 2 sports be avoided until the risk of transmission can be eliminated or measures can be taken to make the sport low risk, such as switching group activities to individual activities. Many trusted organizations, including the USOPC and The Aspen Institute, are recommending the implementation of phases into your Return to Play protocol. USA Field Hockey is also carefully monitoring best practices from the International Hockey Federation (FIH) and other National Associations for policies and protocols specific to the sport. The information provided are adapted recommendations that can be utilized to form training plans for field hockey.
RISK
Phase 1
STAY AT HOME ORDERS IN PLACE & PUBLIC TRAINING FACILITIES ARE CLOSED
Individual training sessions in own home using own equipment
Coaching would only occur virtually
No athletes work or train together unless they are living in same home
Focus on individual development and skills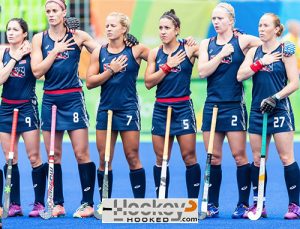 Phase 2
STAY AT HOME ORDERS ARE RELAXED, BUT GROUP ACTIVITIES ARE LIMITED TO 10 OR FEWER PEOPLE.
Limit training groups to 10 (ten) or less
Limit coaches to 2 (two) or less
Limit attendance to those that can confirm no symptoms of COVID-19 for the past 14 days
Minimize changes in small group participants –
assign groups and keep them the same
Don't allow parents and spectators to stay at the facility, only drop
off and pick up
Coaches handle all shared equipment – cages, balls, cones, etc.
Athletes use own water bottle,
towels and personal hygiene products
No high fives or handshakes
Focus on drills that allow for social
distancing to be maintained
No activities that require direct contact between athletes should be planned
Frequent cleaning of equipment with disinfectant before and after training session should be considered 2
Phase 3
MITIGATION EFFORTS ARE LIFTED, INDOOR AND OUTDOOR TRAINING FACILITIES ARE OPEN, NO LIMITATIONS ON GROUP SIZE.
PHASE
Recommended to follow a criterion to participate in training sessions
Pre-Arrival – no signs or symptoms for past 14 days and no contact with anyone sick in last 14 days Arrival at Site – participant questionnaire and temperature check
Athletes with signs or symptoms of COVID-19 would be sent home
Continue with standard infection control measures (frequent handwashing, avoid touching face, cover mouth when coughing)
Provide appropriate infection prevention supplies in targeted areas (hand sanitizer, facial tissues, sanitizing wipes, etc.)
Normal sized group training sessions can occur
Continue to use own water bottle
Face masks and other personal equipment shouldn't be shared
Activities with direct contact can resume
Phase 4
VACCINE OR CURE FOR COVID-19 IS DEVELOPED
Athletes, coaches and staff are vaccinated as recommended by CDC
Continue to educate athletes coaches and staff on the signs and symptoms of infection and don't let them participate if they have symptoms of infection
Continue infection prevention protocols
Continue equipment cleaning protocols before and after training sessions.