Lalremsiami is an up and coming star for the Indian women's field hockey team and has gained many new fans. At 21 she has already chalked up an impressive  64 caps and 22 goals. Lalremsiami was a part of the 18-member squad that represented India at the 2018 World Cup.  At the Asian Games that followed, Lalremsiami became the first sportsperson from Mizoram to win an Asian medal after she won silver.
She was added to the team that competed in the 2018 Asian Champions Trophy, winning the second place. She played in a total of 31 minutes on the field across five matches scoring 2 goals, including an equalizer in  the vital final round-robin match. With pride she accepted the tournament's 'U-21 rising star award that is voted for  by the international Field Hockey federation.
"I am happy with my performance in 2019, and we qualified fo the Olympics as well. I would like to dedicate this award to my team""I didn't expect to win it, but I'm so happy now," Lalremsia said. She added: "I am very honoured to win this award. This is a big moment for me and I thank everyone who voted for me to win this award. This comes as a big motivation for me to do well. I would also like to thank my teammates who stood by me during my personal struggles,"
Mohd Mushtaque Ahmad, President of Hockey India was delighted for her and congratualted her accordingly:
"I congratulate Lalremsiami for winning the prestigious FIH Rising Star of the Year award. She is a youth icon for youngsters in Mizoram and she has done very well for the team since her debut. She has great potential and I wish her the very best in future tournaments."
Born in a little known agricultural town, Kolasib, Lalremsiami left home to join a hockey academy in Thenzawl at only the age of 11. She spent five years at the training centre before moving to the national academy in New Delhi in 2016. After noticing her potential during the camps, junior coach Baljit Singh Saini picked her for the U-18 Asian Youth Olympic Games qualifier.
The language barrier failed to hold her back and she was among the best performers for the team, which finished runner-up.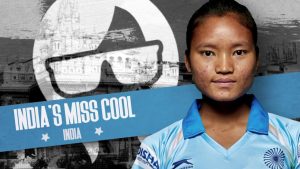 I Her nickname is Siami to her team mates. She made her senior team debut in 2017 in a Test series against Belarus, but her rise to fame began at the Hockey Women's World Cup in 2018. Though she was the youngest member of the team (18), her goal against Italy made her one of the standout performers for the team. This was attributed to her great ability to play the reverse-strike.
Athlete profile Lalremsiami