Manufacturers these days design field hockey bags largely in two different styles: back packs with external stick holders or tall bags that cover kit, balls and sticks. Factors you that should help decide which bag to opt for include how many sticks do you carry, do you need your bag to be versatile (perhaps for college), is the bag for a child, and what type of climate do you live in.
If you are a college student  your bag may need to be a Jack of all trades. Not only must it carry field hockey training gear a few times a week, it may also be used for other sports. Plus it may be needed to transport college books and your lunch box.  This means you'll need different sized compartments keeping dirty sports gear away from college books.
A good answer to this requirement is the backpack with exterior stick holders. This may be more appropriate than a tall stick bag which you may find too clumsy and large with no spaces for the other things in your life.
Hockey Bags for Kids
If you're buying a bag to carry a hockey stick for a child, a backpack with external stick holders may once again be more suitable as a tall, enclosed, hockey bag maybe too long and cumbersome for shorter legs. With, for example, a backpack, the stick  can be pushed upward and fastened so it's less likely to scuff the ground. The old problem of compartments also comes into question with the long hockey bags – they are limited and are unlikely able to carry all the other bits and pieces a young student needs in their daily lives.
Waterproofing
I mention climate, as waterproofing may be a principal feature if your bag is often getting wet. No one likes playing field hockey in damp socks and shorts or having any type of gear wet for that matter. the better field hockey bags will have a decent level of waterproofing.
The Best field Hockey bags for your needs in 2020.
Since the process of searching for top field hockey bags is quite overwhelming, we thought of completing the research for you. Here are the best field hockey shoes that we discovered for you to buy.
The Grays Delta Bag is an enclosed stick bag with multiple pockets including a very handy valuables pocket where you could store your jewelry, phone or watch. This bag is for the serious player, who wants the sports manufacturer to have thought of everything for them. The rainproof hood is durable and will keep your kit dry and is important for many players.
Any hockey bag with Carabiner clips tells me the manufacturer is serious about field hockey. The two clips on this bag can securely fasten the bag to a nearby fence to keep the bag off a wet surface. The two straps comfortably sling over both shoulders so you can carry the bag like a backpack. Is it fit for a college class – maybe though this pro design is too focussed on hockey needs to cater for several purposes aside from hockey and maybe cumbersome to carry into classes. It certainly looks the part aside the hockey field and will tell the opposition you're a serious player.
Pros:
waterproof
shoe compartment
carabiner clips
You can find this number 1 choice on Amazon here for about: 50 GBP, $70, $85 AUD
This striking bag has some handy features that other bags don't have. A laptop compartment is a great feature and its versatile design is handy for those days when you're not transporting field hockey kit. The waterproof base and top fabric is ideal for protecting your kit in damp conditions.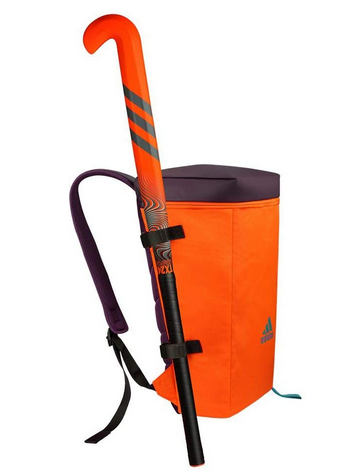 The bag feels lightweight and durable. Two fabric loops on either side grip your stick securely.
At a decent price of about $60, 45 GBP, $75 AUD, its a good versatile choice for hockey players.
Pros:
Looks phenomenal
laptop pocket
waterproofing
Cons:
I liked immediately because of its size. There is no scrimping on carry room while two exterior stick holders keep 2 sticks snuggly secured.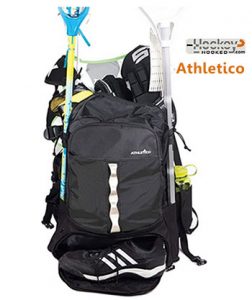 The material of the bag is waterproof so your gear wont get wet. There's space for your eye mask, cleats (studded shoes) and a water bottle holder. The separate compartment for cleats keeps dirty sports shoes away from college books or a clean change of clothes. Outer straps can secure your helmet. The fence/carabiner hook to secure your bag to a nearby fence during game time tells me Athletico have considered fine details and have a great hockey budget bag on offer.
Pros:
Large size
shoe compartment
Carabiner Clips
Great Price
Cons:
Of the enclosed design the Phantom's choice of colors catches the eye immediately. The pink or
blue versions being pretty cool. The advantage of the enclosed design is clear: it will hold 4 field hockey sticks. The handy meshed outer pocket is ideal for carrying balls, flip flops or perhaps a drink container.
A Carabiner clip will keep the bag off the ground and securely secured. 3 inner compartments are ideal for hockey kit and sports shoes. A durable base helps protect the bag and 660D material offers more durability. There are waterproof hoods available but you'll have to ask the vendor. This bag is for the serious player who buys simply for hockey and little else.
Pros:
Cons:
It's available on Amazon for about $60, 50 GBP , $80 AUD.
The Harrow Elite comes in countless colors so you don't have to get confused with a class mate over who's bag is who's. It's ideal for the college student who needs versatility. The 3 compartment bag is small enough to be versatile with 2 holders for sticks and a holder for a bottle.
The cushioned back and straps make the bag comfortable for every day use. It doesn't look out of place as a college bag when you're not carrying sticks. You can easily fit your shin guards, cleats (studded shoes), goggles and mouth guard inside. It is a great 'travel' bag so you can pack a lot for away games. The zippers feel good quality.
Pros:
Cons: