Field hockey is growing and attracts more and more attention all over the world. It has created successful careers for some of the most talented female hockey players. There is an exciting generation of players who made an impression from an early age. In this article, I'm going to take a look at talent in the women's field hockey game who set the hockey world alight from a young age.
Ann Flanagan
Kelsey Kolojejchick
 Anita Punt
Charlotte Harrison
Eva de Goede
1 Ann Flanagan
Her Life
Now 27, Ann Flanagan represented Australia at only 17. This lady is one of the best hockey defenders in the modern age. Ann Flanagan was born in 1992 in Canberra, Australia. Her father is Fred Flanagan who is a PE Teacher encouraged and coached her. This made it possible for her to learn other games like the track and tennis. Anne is not only a top athlete, she also has a bachelor degree in Sports Journalism; she graduated from the University of Canberra. Flanagan has also worked at Fox Sports TV  in Perth, Australia.
Career
Ann plays as a defender. She's very good at taking corners during the games and most of them result in them scoring a goal. She already has 50 caps for the Australian team and is now at the age of 27. She first came to the limelight in 2010 while playing against the Republic of Korea. She was only 17 years old. This was the period when the Australian team was introducing a lot of young players. She also featured in the Australian team that eventually won the 2010 gold medal. Her shirt has number 9 on its back. At this time she scored the only goal that made the Australian team become the second-best team in the world. She usually plays for ACT Strikers club when not representing her country in international games. Another special feature of Ann is that she has been appointed an ambassador for an organization that deals with breast cancer awareness as well as the cerebral palsy ACT. Due to her talent, she is sponsored by Nike as well as Australian hockey brand Ritual Hockey.
Award
In 2013 she was awarded the youngest player of the year award.
2. Kelsey Kolojejchick
Her life
She was born in 1991 in a place called Kingston, Pennsylvania. However, she was brought up in Larksville, Pennsylvania. Initially while young she used to play soccer but later shifted her attention to hockey. At Wyoming Seminary high school she used to play many games like athletes, softball, track, swimming, as well as field hockey. While still studying at Wyoming Seminary high school, she led her team to winning ways, whereby they were not defeated even a single game. This shows how exceptionally talented she was when it comes to playing field hockey. She had such special skills that made her outstanding among other players. That's how she eventually ended up joining the United States National hockey team.
Career
At the University of North Carolina, Kelsey played as a midfielder in the field hockey team. She helped their team win a national title while she was in her first year of studies. Eventually, she finished her college life having scored 68 goals and assisted 43 goals . She first played for the United States hockey team in 2012 whereby they were able to finish in the fourth place having scored five goals for her team during that tournament. At 2015 she played both as a midfielder as well as a forward whereby they were able to win Pan American Games hence progressing to the Olympics. During this time she scored 7 goals for the team.
 Awards
In 2016 she was named the best player for the United States team.
3. Anita Punt
Her life
She was born in 1987 in Nelson . Her parents are Nicolaas and McLaren. She's Dutch, though her Dad has dual citizenship for Holland and New Zealand. She schooled at Waimea College after which she went to Wellington when she was 18 years old. This is when she focused on field hockey playing at Capital National Hockey League Team. She lives in Auckland and studied veterinary nursing at Auckland University which shows how smart she is. She married decathlete Scott McLaren in 2016.
 Career
Anita first played for the national hockey team when she was 18 years old after the team was selected afresh due to poor performances in earlier competitions. This was in 2009. This team is called Black Sticks. She is regarded as one of the fastest field hockey players in the world that makes her very unique. During her other game against India, they were able to win a bronze medal at the commonwealth games in the year 2014. At this competition, she was the trail blazer who scored the first goal. Another interesting thing about her is that she also takes part in the 100 m and the 200 m races. She won at International Track Meet in Christchurch on the 100 m race. Also, she has won in the 100 m and the 200 m races at New Zealand's athlete games. She has been able to propel her team to fifth place in the championship. She is liked by her coach due to her speed. Sometimes she swaps sport to be a retail manager .
Awards
Anita has played for the New Zealand team since 2009. She played at the 2010 Commonwealth Games as well as 2012 Olympics.
4.  Charlotte Harrison
Her life
Charlotte Harrison was born on 13 July 1989 in Palmerston North, New Zealand. She's 5 feet tall and weighs about 55 kg. She also plays as a forward in her position. Her parents are Steve and Zanna Harrison. She lived in Whangarei when she was young. She's a descendant of Ngapuh ( Maori). She has two sisters called Samantha and Anita. She studied at Whangarei Girls School and later studied physio therapy at Auckland University. She lived in Northern Shore where she was employed as a beautician in the year 2012. She's two years older than her sister, shorter than her sister, though they look alike and you could even mistake them for twins.
Career
She played for the New Zealand women's national team in the year 2012 and in 2016 Summer Olympics. She first appeared for the national team in 2005 due to her incredible work at Northland national hockey league. She is famed for her game against Australia during the Oceania Cup and world cup qualification. She's a member of Southern Hockey club that is located in Papatoetoe in Auckland. Also, she's a member of New Zealand's national hockey team where she plays as a forward. She now plays for club Southern District Hockey Club. She became popular as one of the best finishers in the attacking world. When you view her performance she has been scoring very well for the national team hence she's a very crucial player for the women's national hockey's team.
Awards
She participated in the 2012 Olympics where their team did well. She's also honored to be the representative of hockey in the national hockey team in 2013.
5.  Eva de Goede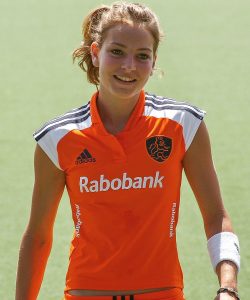 Her life
Eva is a Dutch citizen who was born in 1989 in Zeist, Netherlands. She's 5 feet tall and weighs about 61 kg.
Career
She's a very able hockey player who is a midfielder. She stirred her national women's hockey team to win a gold medal in the 2008 Summer Olympics. Also, they won another gold medal in the London summer Olympics of 2012. Eva was also part of the team winning the 2007 championship. In 2016 in Brazil, she led her team in winning a silver medal as well.
In 2018 they were playing for the world cup where she stored five goals. In this completion, the Netherlands won the game after they beat Ireland by six goals. She's also a member of the international hockey federation. Her shirt has number 9 on its back. At this time Eva scored the only goal that made the Australian team become the second-best team in the world. She usually plays for a local club when she's not on representing her country in international games. Another special feature of this athlete is that she has been appointed an ambassador for an organization that deals with breast cancer awareness.
 Awards
In 2018 she was awarded the Hockey Stars Award.