Best field hockey shoes for women are designed by some of the leading household names in field hockey. Grays, Adidas, Kookaburra, and Asics have designed great shoes to enhance the performance of women hockey players.
The different types of Field Hockey Shoes
Firstly, when shopping for Field Hockey Shoes, figure out what surface you will be playing on. Different playing surfaces require different types of shoes. Namely :
Artificial Grass/Turf
Grass
Indoor arenas
With more hockey players playing on artificial pitches, the majority of new field hockey shoes are designed with rubber soles, having small rubber studs.
Shoes designed for grass have taller metal or rubber (cleats) studs. Often studs (cleats) are designed to splay out from the sides of the sole to offer more grip when twisting and turning on turf.
Whereas, indoor arenas suit a much flatter sole. You'll find many of the shoes designed for turf will also work indoors.
The toes of field hockey shoes are often raised and reinforced, to protect players from hard-hitting balls, and to some degree swinging hooks of sticks. Often there will be heavy-duty material added around the ankle and heel area for better protection.
Waterproofing is an important consideration for manufacturers. Players do not want to be running with heavy, wet feet on wet grass or turf. Equally important for manufacturers is to create lightweight shoes that make players competitive and fast, on any type of surface. The benefit of buying hockey shoes with flatter grip/cleats is that they normally can be used for the indoor season as well, as the rubber smaller studs (cleats) will not be cumbersome.
The major field hockey brands in this review are chosen because of their attention to detail, and their pedigrees in hockey-related equipment. Our reviews focus on 2021 shoes for grass and artificial turf/indoor pitches.
Here are the 4 of our favorite Womens Field Hockey Shoes
A great option from ASICS. These women's Gel-Lethal MP7 turf shoes get inspiration from trail running. Reasonably light, they provide excellent grip for the most agile of players.
Designed and developed to cater to the needs of casual players through to ambitious amateurs. Featuring Gel cushioning, these shoes, like most from ASICS are decent at absorbing impact.
Built strong with a rubber sole, and due to their synthetic leather upper has above-average water resistance. Available in a few different color options to match most uniforms.
Prominent features :
Comfortable Gel cushioning

Good water resistance

Don't need to be broken in
The elevated toe and heel on the Grays Flight AST offer good protection from fast hockey balls, while the lightweight design will allow players to run fast. An improved grip offers traction in tight turns and is outstanding on synthetic surfaces, especially water-based turf.
Prominent features :
LOW PROFILE GEL ZONE PP as with the Burner Pro offers stable 'low to the ground midsole for quick dynamic turns'

Provides 'cushioning through gel inserts and torsional stability with the Micro-Light E.P.S mid foot unit'

The one-piece upper is designed to fit as smoothly as a glove and importantly, reduce water intake. 
At a much lower price than the burner pro, this is a good value shoe.
The Kookaburra Dusk Hockey Shoe is a solid budget option.
Prominent features :
Advanced EVA midsoles for superior shock absorption

The robust and raised toe provides protection from fast hockey balls

The transparent coated mesh upper increases durability and prevents water from entering the shoe

The heel is not as high as other models we've seen

The rubber studs (cleats) are well usable indoors and on artificial turf

A padded tongue is a benefit for protecting the upper foot
The mesh on the upper ensures the shoes are breathable, keeping your feet well ventilated. As a budget option, the Dusk is a good buy.
The heel protection and ankle water protection may not be as good as the more expensive shoes though, however, they are light and durable. 
All said, you'll need lightweight, well-protected, waterproof shoes with the size studs (cleats) ideal for your regular playing surface. I would stick with the brands that know the sport inside out. These brands have a long history in sport's shoes, so can be relied upon to produce decent field hockey shoes.
Still undecided? Try our list of the 10 Best Field Hockey Shoes for some more inspiration!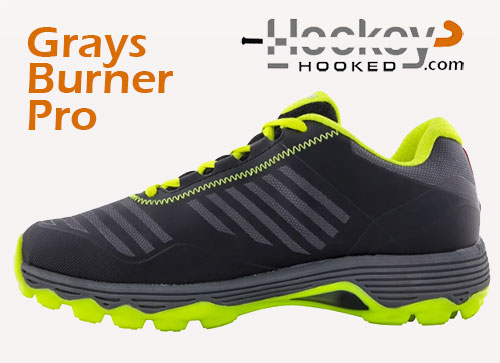 Grays Burner Pro: Grays describe the Burner Pro as an all surface hockey shoe. The stud (cleats) design make it best suited to water based turf. The IXP5 waterproof treatment of the Burner Pro offers great protection from rain and wet surfaces so that players won't have wet and weighed down feet. The god news is your feet won't get wet from sweat either thanks to the GR-TEX UPPER. Designed for speed and performance the lightweight breathable GR-TEX upper with seamless G0RSE Mesh windows allows for breathability.
The raised, reinforced heel and toe offers protection from high speed hockey balls. The S.H.F (SUPERIOR HEEL FIT) built in TPU counter offers  a secure and stable fit, reducing 'lateral movement in the heel area', combined with 'ultra-soft memory foam for a unique fit'.
Softer feel TPU cleats make significant weight saving and 'provide outstanding purchase' on the synthetic surfaces. While their best performance is undoubtedly on synthetic turf, they are usable indoors. For long term play indoors flatter soles would be better advised. All said Grays burner Pros are elite field hockey shoes from the elite field hockey equipment manufacturer. Expect to pay approximately $150, 120 GBP, $220 AUD. Amazon was the cheapest seller place we found.