The best field hockey sticks in 2021 are built by leading brands such as Grays, Adidas, STX, and Kookaburra. Top hockey stick manufacturers have designed hi-tech features to reflect a player's position, skill level, and budget. This review considers these premises and also the desirability factor of each stick to provide you with a selection of 'Best 2021 Field Hockey Sticks'. The right stick can enhance your game and give you a great playing experience. The following range of field hockey sticks are available online in 2021.

The following field hockey sticks have been tested rigorously with no BS or bias. I've handpicked my top fifteen on offer this year, that in my opinion, are the most competitively priced and best value to enhance your game.
Broken down into the –
BEST FIELD HOCKEY STICKS OF 2021
Best Advanced Field Hockey Sticks priced at $200+
TYPE

DESIGN

BEST FOR

READ MORE

CHECK PRICE


BEST ADVANCED HOCKEY STICKS $200+

DRAG FLICKS AND AERIAL PASSES

DRAG FLICKS AND REVERSE SHOTS


BEST BEGINNER HOCKEY STICKS $50 - $100

VERSATILE ENTRY LEVEL STICK

VERSATILE ENTRY LEVEL STICK


BEST JUNIOR FIELD HOCKEY STICKS
Looking for some other options? Have a read of our more specific Field Hockey Stick guides of 2021 here –
How to choose the Best Field Hockey Stick for 2021
A defender will often opt for a flatter bow-shaped stick which is more predictable for trapping and clearing the ball. If you're a forward player you'll need a more competitive stick that will be designed to be more nimble and help with 3D skills. A midfielder may often opt for an all-rounder, perhaps with reverse play features, adapted for dribbling. The beginner's stick will be more affordable, designed to help the player learn control plus basic skills.
The keyword being 'often'. In choosing the best hockey stick; the final decision is yours. The right design for your skills, the shape you're most comfortable playing with and your budget is important.  For example, some forwards prefer a flatter bow shape because they prefer a more predictable shape when in an advanced tight spot which goes against normal advice found on many review sites.
Which position do you play?

What standard have you reached?

What is your budget?
These are a few important factors that must be considered before buying your field hockey stick. Your status too is important: are you a junior player who is a beginner or are you a junior player who is already skilled at the game (with aspirations to progress further and play at a high level)?
You may be an adult novice who wants a starter stick? Or you may be a skilled adult looking for a stick that will enhance your skills and help progress your game at a club level.
Maybe you have found your ideal position either as a defender, midfielder, or forward and you are looking for a stick to enhance the skills that you need for that position. We will address the design modifications manufacturers have built to enhance those exact skills. Here's some other options dependant on your position.
Of great importance is the length of the stick. Buy a stick that's too long and your close control and your 3D skills will be hampered. Buy a stick that's too short and it could lead to long term back problems. Indeed, the length of your stick can be the deciding factor in helping complete an accurate pass or making a successful steal and not undercutting the shot. However, it's a myth that forwards play with shorter sticks.
With a stick that's too long, you can cause long term damage to your stick by continuously scuffing the toe and causing cracks to the head. 
We have created our field hockey size guide to help you choose…
For field hockey, the curve of the bow can be gentle and the apex directly in the middle, which suits players who are looking for more control and predictability or are learning the game. The straighter stick is sometimes preferred by forwards who like the predictability of the shape in tight spots.
The standard shape is best suited for defenders, though some forwards like the flatter design for more upright play. Ultra bows and mid bows fall into this category.
Meanwhile forwards will often look for a low bow shape with the apex nearer the toe – good for 3D skills, scooping, and drag flicking capabilities from penalty corners.
Probow-Xtreme Composite Hockey Sticks. Probow Xtreme is a low bow shape (Grays low bows have contoured faces combined with reshaped LBZ's for backhand hits).
Probow Composite Hockey Stick. The Probow shape is a modern low bow designed for drag flicking and 3D skills. The straighter rear profile allows more consistency on reverse stick passes and shots.
Jumbow is a traditional low bow that is used by many top international players. A Jumbow is a flat-faced low bow stick.
Dynabow Hockey Sticks: The Dynabow shaft profile is designed for the all-rounder hockey player, and is excellent for stick handling and passing consistency. It sits between a mid bow and a low bow – good for drag flicks but more of an all-round shape.
Mid bow Hockey Sticks. Are medium curved bows that are good all-round shapes, helping to provide some lift. In my opinion the best for defenders.
Ultrabow Hockey Sticks. The high bow curve is good for defenders and beginners. Ultrabow is a straighter shape and is designed specifically to help with learning
Head Size and Shapes: Midi vs Maxi
Manufacturers largely stick with 2 well-known head shapes, despite sometimes branding them with their own names – the maxi and the midi.
Many experts believe midi heads are better for forwards and maxi heads are more suited for defenders. We've reviewed the issue, however, and found that many forwards like maxi heads for their larger sweet spots which are good for receiving and striking power shots and for reverse stick play. A midi head offers more speed and nimbleness while dribbling.
The new shapes are designed to suit certain hockey players' styles and the roles they take in their playing positions. A slightly more curved head allows for a better take of the ball while an indent in the space between the shaft and the head of the hockey stick is designed to help drag flicking or aerial passes upfield.
The maxi head is probably used in over 90% of sticks today. As the Maxi head is so dominant, manufacturers have turned to developing additional features to aid players such as larger reverse areas, concave head profiles for drag flicking, and further bow development.
Developers have created an indented, or concave head, running from the toe to the top of the head which is normally available with a low bow profile stick. This development is aimed at players who like to drag-flick as the ball can flow through the channel for greater accuracy and speed.
An unintended design benefit of the Maxi provided several other benefits. Because the head shape of the Maxi has the largest allowed surface area the 'sweet spot' is enlarged making harder shots and passes more successful.
This small head saw the demise of the ultra-short head in 1986. What the midi gives up in control it gains in agility.
Midi heads are preferred by players who like a really quick stick, since it is shorter than the hook head and Maxi head when dribbling, it's easier and quicker to flip the head from forehand to backhand and vice versa. This shape is best suited to forwards who have a high skill level.
Which head is best will be debated at hockey clubs up and down the country, though each has benefits for different reasons. If you are of a very high skill level you may love the midi for its nimbleness, though the maxi is no deadweight. With the best hockey stick manufacturers investing so much into modifying the maxi year after year they're betting heavily on its popularity, and are confident in its design as a top head. If not the best design for field hockey sticks.
Here are a few modifications we reviewed and noted by popular manufacturers:
TK CWT 2 / Kookaburra Skill Zone technologies use the benefits of the concave design but on a reduced amount of the stick so the normal player can have greater ball control and a more consistent rebound/stopping ability while playing.
Grays Scoop Profile uses a 4 mm indentation around the head for greater control on the ball, however, it leaves a flat central playing surface. On the downside when hitting from an upright position it's easy to lose control, of the ball unless you have a high skill level. The large surface area will give more chance of making the strike.
"

Field hockey is my strongest sport, and if I lose a game, I take a long, hot bath and moan about it. " Emma Watson.

You don't need to be a mathematician to know that a heavier stick will be more powerful in the shot and tackle and distance in your hits which is ideal for clearing balls and passing. Often preferred by no-nonsense defenders a heavier stick can be a real asset to a defender. For forwards who like to dribble and execute tricky skills a more nimble, lightweight stick is often the sporting instrument of choice.
Field hockey sticks range from about 535 g to about 680 g in weight. This typically depends on personal preference.
Composition and Weight of Field Hockey Sticks
With the emergence of artificial turf wooden sticks were largely phased out. With full modern composite sticks, the structural integrity is superior, can be controlled with more predictable results. Wooden sticks would hold water and heads would often bloat and crack. Modern tech formulations have made the composite field hockey sticks more predictable in quality.
Fiberglass: Fiberglass/fiberglass, (depending on which side of the pond you live in) adds strength, durability, and better handling to a hockey stick. These are less rigid than carbon-heavy sticks making them more forgiving.
Fiberglass is similar to carbon but found in entry-level sticks at lower prices.
Carbon: Adds stiffness to the stick. The higher the carbon percentage the more powerful your hits will be.
A stick with less carbon will improve control and make trapping easier. Sticks with higher levels of carbon tend to be more expensive.
Graphene: Is the latest technological advance now used in hockey sticks. Graphene is more than 200 times stronger than steel but is also very flexible. Manufacturers claim such the addition of graphene, makes their sticks the most lightweight, durable, and the most responsive sticks yet.
Currently, graphene is only found in the top of the range sticks.
Kevlar/Aramid: Kevlar is so strong it's used to make bulletproof vests. Kevlar adds durability to the stick and absorbs vibrations sent through the stick when striking and receiving balls.
Best Advanced Field Hockey Sticks priced at $200+
The Grays KN10 Probow is the creme de-la creme of the Grays Kinetic (KN) range. Replacing the popular KN12000 Probow, the KN10 seems to have it all: constructed with the new TRI-TECTM Carbon weave and Graphene reinforcement, this is a seriously powerful stick.
The micro toe or midi toe is designed to help with nimble 3D skills allowing the stick to be flipped over with more ease. Also, a reshaped Low Backhand Zone (LBZ) which Grays describes as 'revolutionary' improves the consistency of reverse taps and general play.
A top-end function for the serious player wanting to hone 3D skills, Kinetic Core Technology redistributes weight for a light and agile collection that helps with speedy 3D styles of play. The Probow shape is flatter allowing forwards to play more upright which is of importance in tight spaces while maneuvering at speed.
Durable yet nimble with a sleek black finish, holding the KN10 Probow tells the opposition you mean business.
*Great price on eBay out of the US at the moment!*
The HPR 901 Stallion boasts an elite player design for the versatile player.
With its maxi head, balanced bow shape this stick could be enjoyed by a defender or a forward. The maxi head offers more consistency in the take and the shot while the balanced bow supports upright play. I could see either a forward or a defender happily using the HPR901.
STX is big on anti-vibration and the HPR 901 is comfortable with Countervail Vibration technology. A power core system in the toe is meant to add more power, and I can agree with that, though it also has a light toe feel with a thin design, which makes it feel nimble when slapping or hitting a ball.
The HPR 901 is a top-end 90 percent carbon stick.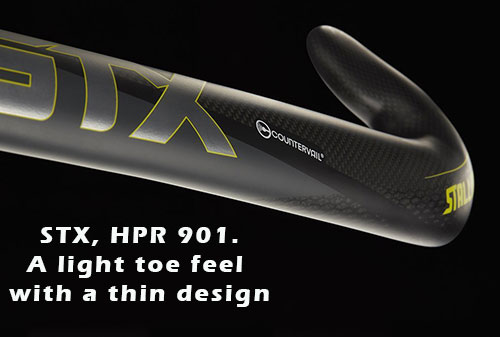 There's no room for a budget if you want the best.
Launched in late 2020 in the UK, Rival Hockey are producing some quality sticks. The Striker Pro has swung into our list of the Best Field Hockey Sticks for 2021. 
Constructed with 95% Japanese carbon fibre and 5% Kevlar, the power from this stick is incredible. For those that like to launch some big hits, you won't be disappointed. The high carbon content does make it quite stiff, but we got used to this during testing, with the power and accuracy far outweighing any stiffness.
Featuring GripX technology, which adds a unique roughness to the head of the stick. Designed to help control the ball, this actually works! You'll find it's a bit sticky at first, but improves to be a fantastic feature once you wear it in.
Prominent Features –
95% Carbon Fibre + 5% Kelvar

Weighing in at 545g

Low Bow

24.5mm curve with a 200mm bow point

GripX playing surface

Thick Edge Hitting Zone for Power and Reverse Hitting
The Striker Pro is available in two colours – Black and Gold, or Blue and Silver. With their matt finish, they really look the part!
This top-end stick sees the return of the Probow shape for players who like to drag flick.
The Probow's low bow shape is designed to help players drag-flick, with the special 'drag-flick groove. This gives more speed to the ball from flicks. Another pro I bestow on this stick is the straighter rear profile, which helps with reverse stick passing and shooting. The pro dampening handle is also very comfortable for players who spend many hours a week playing. The GR11000 composition is made with Tri-Tech carbon reinforcement, including graphene which is 200 times stronger than steel, while still being flexible.
The GR11000 offers players more control and durability while also having a very powerful shot. More useful for a midfielder or a forward than a defender.
This stick offers top range performance at a competitive price. That's why it makes my list. With 70% carbon and 30% Kevlar the stick is strong. Its mid bow shape makes it versatile and usable for all positions. The maxi head makes it more consistent in the take and the shot while being useful for juniors, beginners, or more advanced players.
Dual-core construction with THZ protection is designed for durability and making sure the power stays through the ball. The Tomahawk Zone provides stiff reinforcement in the area of the stick used for tomahawks.
The silica surface on the toe helps reduce the spin of the ball while providing more grip on the ball. The Kevlar composite makes the V8 stiff and that leads to more power and a powerful feel. You will find top Australian players like Casey Slabowski using the Mazon, and for good reason!
Another great stick from Mazon is the Black Magic Hook. The distinct hook-shaped head is ideal for reverse stick and trapping skills. Built with similar features to the V8, you can count on the hook to provide excellent hitting power.
This all-rounder performing hockey stick, I voted number one for defenders' field hockey sticks. Its fiery orange finish says passion and power. With the thicker reverse edge for backhand control, the Grays GR8000 Midbow will allow you to reach the peak of your powers.
You can read the full review of the best sticks for defenders here…
The first thing we know about Adidas is they undoubtedly have the sporting experience and financial resources to create a field hockey stick of supreme technology. They indeed boast the LX Kromaskin was built using Formula 1 technology.
The stick looks dazzling. The "micron-thick alloy" treatment reduces fiber damage and abrasions pre and post-production to maintain structural performance which means more durability.
The apex of the bow is between a mid bow and low bow allowing for agile forward play or robust passing and aerials from midfield or defense.
The gentle bow allows for upright forward play in tricky dribble and tight maneuvers. It may be a bit harsh not scooping the Adidas Kromaskin to the top 3.
The Adidas isn't a stick you can be thrifty over. Well worth the money!
Featuring a Gravitate shape, this TK One Plus Silver Field Hockey stick lays claim to having an extra late bow. The 25mm bow is placed well down the stick, close to the hook making it ideal for drag-flicks. This is quite a high-tech field hockey stick, constructed of a high-performance tri-axial weave called Ballistix. Along with an Integrated Dampening System which converts kinetic energy into heat to absorb vibrations.
With the PrePreg Enhanced Zone, it's good to know your stick has reverse play benefits; Gray, the well-established brand has added the feature to improve the performance of the low backhand area, strengthening play. The dynabow style means the shape sits between a low bow and mid bow so it's at home with 3D skills as well as drag flicks. Defenders who like to employ a few dribbling skills may even like this top stick while forwards will benefit from the more predictable gentle shape in tighter spots.
Best Beginner Field Hockey Sticks priced between $50-$100
The TK Total 3.6 Innovate Field Hockey stick dribbles into my top ten field hockey stick reviews as the best value, affordable stick. At around the $50 mark, it represents great value for money. Its composition is made from fiberglass and Kevlar allowing for a soft touch, great for receptions and softening vibrations so you won't feel uncomfortable hitting the ball.
Its maxi toe has become the standard and could be used in any position on the field. With its 25 mm apex moved nearer the toe it's almost a low bow and a good all-round stick for beginners or more advanced players. At 550 grams it's heavier than some more expensive models, though on the upside it feels solid in the tackle and powerful when taking a shot.
You can read the full review of the best sticks for defenders here…
You'll find this great budget stick for an incredible entry-level price.
You can get a chamois grip or a gel grip with this popular Aussie stick. I used the chamois style and was impressed with its softness.
The extremely low bow with an apex of 24.75 is ideal for 3D skills and it feels nimble and light. It has a comfortable maxi toe and vibrations are dampened with the Soft-touch compound. The price is good for an advanced stick!
This Kookaburra Energy Field stick lives up to its name. Constructed with 10% carbon and 90% fiberglass provides decent power, yet still allowing good ball control. With a maxi head and 25mm medium-bow design, this stick is a good multi-purpose option allowing drag-flicking, sweep hitting while still enough power for some hard-hitting.
Its greater surface area around the shaft gives it a responsive feel. Overall, this is a decent stick for a relatively affordable price.
*Currently only available in the U.S, Asia, and NZ. Worldwide shipping may be available*
Firstly, I love the finish of this stick. Its charcoal, black and gray tones with a glossy head is a piece of art in itself.
Notwithstanding the top tier look, the Stallion HPR 101 is an ideal beginner's hockey stick yet could be used without problems in club hockey. Quite a lot of stick for 50 GBP. The balanced and gentle bow allows for upright play so forwards who like to twist and weave in tight spots will like its design.
At 580 g it won't pull any punches in the hard tackle while 5% Kevlar gives it good stiffness and durability.
With carbon, Kevlar, and fiberglass composite offering responsiveness power, and strength. It's, without doubt, one of the best value sticks on the market. The maxi toe has a nice wide surface area. For the difference in the price of a few pizzas, it certainly is a worthy upgrade on a wooden stick.
Best Junior Field Hockey Sticks of 2021
Made with graphene, the GR4000 Dynabow is most probably the best junior stick available for the serious junior. The Dynabow has a narrow midsection for smaller hands, while the composite features hi-tech graphene which stiffens the stick (usually reserved for Grays marquee field hockey sticks) offering superior durability.
This stick is designed for a good, light feel to hone control skills and 3D skills.
The midi/micro head allows for nimble play, switching to reverse play and back. The dynabow is somewhere between a low bow and mid bow allowing for 3-D skills while also being more predictable than a low bow.
The GR4000's silver style gives the stick a top dollar look and surely any parent investing in this stick will see a beaming face looking back up at them.
This advanced beginner's stick is affordable at the sub $100 mark. It has a powerful hit due to the Kevlar and carbon construction. It's worth noting the stick is 610 g which is the heaviest stick on this list. Is that a bad thing? The weightiness isn't noticed. The weight assists powerful plays and strikes.
The gentle 20 mm bow type makes the stick an all-rounder and a good stick to learn with. The fiberglass and Kevlar should make this stick last a few seasons. The maxi head has a large surface area good for the take and Kevlar weave dampens vibrations. All said the Grays GX1000 is a powerhouse stick to give assurance to defenders, while helping midfielders and forwards hone their skills at a price that's a steal.
To find the best field hockey stick, consider your position (if you are not sure opt for a versatile stick). Make sure you choose the right size. If the stick is too long it will impinge on your dribbling skills and you may scuff the toe. If your new stick is too short you'll end up bending your back and causing discomfort. The top brands have experience in creating sticks that last so I'd stick with them. Play safe and enjoy.
by Eddie G, your field hockey enthusiast.